Now that I'm more than halfway through my second pregnancy, I'm starting to get antsy to move my First Born over to her big girl room so we can put Baby Girl #2 in the nursery. I've been a little sad for months thinking of her moving out of her crib, but I'm so excited about this new phase too.
Especially the decorating part! (It's better to focus on than how big my first baby is getting!)
I've been scouring the internet for the past few months already to figure out what I wanted to do in the new room for a "Big Girl", and think I'm finally at the point of finalizing some decisions.
I was originally thinking I would do light pink, dark pink, gray and white. I really want to do something that will be cute now, but that she won't outgrow in a few years either. I was looking for some pink bedding when I came across this duvet cover at pottery barn kids:
I typically don't like blue in my decorating (Or any color for that matter. Love my neutrals), so was a little surprised I was so drawn to this. If there's one thing I've finally learned in decorating though, its to go with my gut reaction of what I really love instead of what I "should do". So I changed directions a bit and found some other pink and blue room inspiration.
First of all, I saw THIS at
justagirlblog
and was totally sold and really excited about the pink and blue.
This picture also helped me solve the problem of wall color (blue) and curtain color (pink). I wasn't sure if the blue walls would be too much, but love it.
I also love this room from pottery barn kids. I debated between this duvet cover and the other for awhile, but just didn't like this quite as much. Still love the blue walls with the blue bedding and pink curtains. But I especially love the painted pink furniture and bringing in a few green accents too.
I think I'm going to go with these tiered ruffle curtains from pottery barn kids. I've had my eye on them for awhile now and am a little in love.
I really want to have a few personlized touches in the room. I remember always loving personalized stuff myself growing up.
And I think I'm going to go with this eyelet bed skirt, also from pottery barn kids:
I like that it kind of has that same romantic country feel of the duvet cover.
I really wanted sheets with a cute print, but love the light pink gingham.
I am normally pretty frugal about a lot of things, clothes for example, but I have all the pottery barn Penelope crib bedding and curtains in the nursery now, and there's just no comparison with the quality of the cheaper options in bedding and curtains. I've learned from experience that if I just settled on something because it's a cheap version of what I really want, I end up replacing it quickly..therefore spending more than if I had just gotten what I love in the first place.
Some other inspiration from around the Internet:
I definitely want to do some dark pink accents like in
this
nursery.
Love the color of the walls in
this room
and the pink floral accents with the blue.
And kind of love the white tree wall decals on the blue walls. I found
this one
on etsy that I like.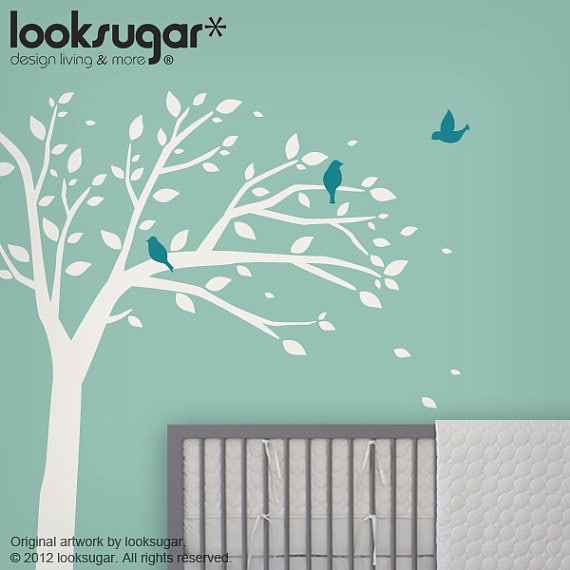 Gonna miss this room though:
So many wonderful, amazing memories in there.
We'll keep most of the things the same, but I want to change it up a little for #2 to have her own space and for it to feel a little different for me.
This is a little embarrassing, but here's where we're act with the room right now. Yeah. Yikes!
Hopefully things will be looking much different after this weekend! I will keep you posted. Can't wait to see how it all comes together!