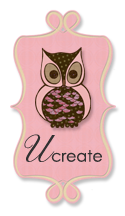 I was hunting around for some fun DIY Halloween projects and came across this great new website, u-createcrafts.com. TONS of complied DIY projects that have me totally inspired.



Like these DIY Halloween projects HERE:



I've been searching for the perfect inspiration for a Halloween wreath. I have a general Fall wreath now but want to make a new one specific for Halloween. This one is cute and seems basic enough.





But this one is so cool and funky. I have some dollar store crows I'm looking to do something fun with, and I could make some of my felt flowers like on my spring wreath.





I want to do something cute out from this year and love these pumpkin topiaries. I'm thinking I could stick some cut-out Jack-O-lantern faces on one side for Halloween and turn them around after for a Thanksgiving/Fall decoration.



Should be easier enough to put some fun scrapbook paper in a frame with a fun black silhouette. And you could pick up cut out letters like that at any craft store.



I've been wanting to try making a pillow for some time, This looks cute enough that I may finally do it.



Coffee filter spider webs..brilliant!




I'm determined to make a burlap banner this year. Or something, anything, out of burlap.

And finally, LOVE the idea for this Halloween advent calendar..a bunch of little treat bags hung on a black spray painted branch. Going to be a fun crafting season!